Close End Wire/Commector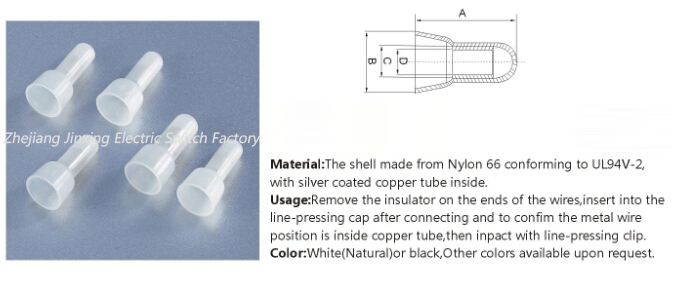 Model
Material:The shell made from Nylon 66 conforming to UL94V-2,with silver coated copper tube inside.
Usage:Remove the insulator on the ends of the wires,insert into the line-pressing cap after connecting and to confirm the metal wire position is inside copper tube,then impact with line-pressing clip.
Color:White(Natural)or black,Other colors available upon request.
ITEM.No.

(A)(mm)
(B)(mm)
Thread

diameter

inside

C(mm)

Brass

tube

diameter

D(mm)

Suitable

wires
φ3
18.0

9.0

3.6

2.8

1.25

2

2-16

φ4
21.0

9.5

3.9

3.0

2

1

6-14

φ5
22.5

10.5

4.8

4.0

5.5
12-10
φ6
24.0

12.0

5.6

4.8

8
8
φ8
25.5

14.0

7.5

6.0

13
6
φ10
29.5

15.5

9.3

7.8

16
4